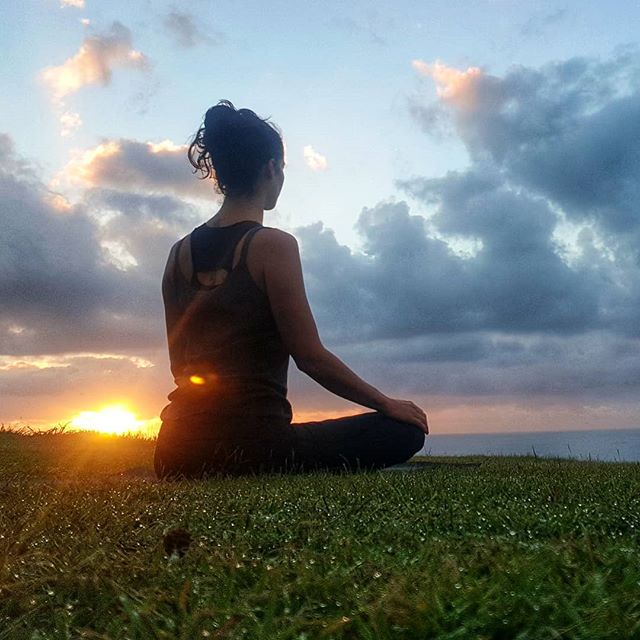 To never take a day for granted
It all started when…
I feel lucky to have practiced meditation for almost 25 years and I've always been passionate about wellness, the mind, and the body.
At uni I studied psychology and health sociology with a keen interest to work in the area of health and the mind. After completing my degree I went on to gain a Post-graduate Diploma in International Public Health. At the same time, I was enhancing my meditation and yoga practice with practical training in yoga, massage therapy, wellness coaching, and meditation.
Sunrise Well as a stress management service was a tiny idea in my mind at the time, but given the right conditions, it was about to become a bountiful, wholistic practice.
2013 was the year that everything came to play at once.
All things heart-related are, well, close to my heart.

Yoga, meditation, wellness coaching, stress management...all of this came together after some dramatic and, to be frank, quite scary events I experienced in that year.

The events of 2013 made me realise just how important it is that I reach people with what I do. Not just yoga-type people, but every day, busy, family-focused, working people.

People like you.


The first event happened on a mild winter's day in June. A day which turned from very ordinary to one of the most terrifying days in my life.

Stepping out in the morning to pop up to the shops I saw what looked like a pile of clothes crumpled on the footpath further up my street. It caught my attention and upon closer inspection I realised it was a person. At first I thought it was a homeless man who had somehow stumbled into our quiet suburban street. I got closer and tried to get the man's attention. I tried to wake him up and realised something was seriously wrong. In fact, he didn't seem to be homeless, just a local man who was unconscious on the footpath.
I called out for help and a neighbour ran to my side. Together we called 000 and suddenly I was performing CPR on the man until the ambulance arrived. I had just stepped out to go to the shops and suddenly I was performing CPR and hoping beyond hope that this stranger would make it.
I would like to say that he survived to see his grandchildren again. Thanks to the CPR and the work of the ambulance officers we were able to bring his heart back into a healthy rhythm but he remained unconscious. He lived another couple of days, enough time for his family to gather and say goodbye, and passed away peacefully with his loved ones by his side.


The second event occurred just 2 months later when my husband had life-saving open heart surgery and afterwards we met a man who made me rethink heart health entirely.

My husband Carlos was born with a congenital heart defect that was being monitored his whole life. In August 2013 the time had come for him to have surgery and we placed his care in the hands of some incredible heart surgeons to whom I'll be forever grateful. The surgery went well and within a few weeks he began cardiac rehabilitation. Once a week we travelled to the hospital where Carlos did physical training and heart education workshops.

Many of the people we met at the rehabilitation were older and were there as a result of various heart-based surgeries. But there was one man there who really stuck out. He did not fit the 'heart patient' mould at all. He looked to be about 40, healthy, and extremely fit, though I later learned he was there as a result of a heart attack. In fact, while most people kind of shuffled along doing the exercises, he seemed to be treating it like a personal training session, giving it 110% and clearly enjoying the feeling of rewarding exercise. The following week he was gone, having 'graduated' from the 6-week program. Carlos also graduated from the program after 6 weeks and continued on to full recovery and back to normal life.

Several months later we popped back in to the rehabilitation centre to meet with the heart nurse. To our great surprise we came across the fit 40-something man from the program. What was he doing there?? I couldn't help but ask him what had happened to bring him back to the rehabilitation program and what he told me chilled me to the core.

Prior to his first heart-attack, this man was a self-confessed workaholic. He owned his own business, worked up to 80 hours a week and, when he had spare time he trained for marathons. In fact, his first heart attack occurred just hours after completing a big marathon. Following the surgery he made a strong recovery, however just a few months later he suffered a second heart attack. This time it was his 8 year old son, having had the initiative to learn CPR, who kept him alive until an ambulance arrived. After the second heart attack the story was less positive. In fact, the surgeons told him that, due to scarring, the electrical activity of his heart had basically gone 'haywire'. Because of the messed up electrical signals, his heart rhythm was all over the place most of the time. He was going to have heart attacks again and again and there was nothing the surgeons could do to stop them. The surgeons were forced to place a device in his chest that mimics one of those defib machines you see on TV, basically giving it a kickstart from the inside every time he was having a heart attack. He was also placed in the queue for heart replacement surgery and was awaiting a donor.

We left the rehabilitation centre in shock. I never found out what happened to that man. But I hope with all of my heart that he got his donor and is able to live well with his wife and son.


from those experiences I was motivated to create Sunrise Well, where each Sunrise is a new opportunity to take a deep breath and start again.
It really hit home to me just how precious each moment of our life is, and just how easily we squander those moments away with work, stress, and worry.
Those experiences I had in 2013 involved ordinary people having an ordinary day, suddenly battling for their life and potentially never seeing their loved ones again. Of course you can't point your finger to any specific cause for their heart issues, perhaps it was stress, perhaps diet, smoking, or a combination of many factors, who knows?
The point is though, the moments we have to live are fleeting and every breath we take involves a choice.
What if you have the chance to make a new choice in your life?
What if you can avoid heart surgery or lifelong medication with a few simple changes in your life now?
What if you can find the space in your thoughts to take a deep breath before saying the wrong thing to your partner and watching it all go downhill?
What if you can find the energy to start exercising again? Or eating and sleeping better?
WOULD YOU DO IT? FOR YOUR LIFE? FOR A LONGER, HEALTHIER AND HAPPIER RETIREMENT?
Would you do it for your family?
We are living longer. We are working longer and harder. Stress doesn't just magically go away, YOU need to do something about it. Don't you want to make the most of your time here and really thrive in your health and your life?
That's the story of Sunrise Well
MY QUALIFICATIONS
2016 - Hart Life Coaching - Mindful Meditation Teacher certification

2016 - Health Sciences Academy - Professional Diploma in Nutritional Therapy

2015 - Wellness Coaching Australia - Level 1, 2, and 3 Wellness Coaching Certification

2014 - BodyMindLife - 50 hr yoga Art of Alignment and Assists Certificate

2014 - Beta Lisboa Yoga - Spiral Yin/Yang 200-hour Yoga Teacher Training

2014 - BodyMindLife Yoga Teacher Mentoring Program

2014 - Les Levanthal - Yamas, Niyamas, and Ethics immersion

2013 - Australasian College of Natural Therapies - Certificate IV in Massage Therapy

2011 - Simon Borg-Olivier (Yoga Synergy) - Foundation course in Yoga Anatomy and Physiology

2007-2008 - Commonwealth Department of Health and Ageing - Graduate Officer

2004-2008 - UQ - Graduate Diploma of International Public Health

1998-2001 - UQ - Bachelor of Arts - Psychology and Art History

*Up-to-date Senior First Aid Certification and CPR*
So, in a nutshell, those were the reasons that pushed me to create Sunrise Well. Because, from these experiences I truly believe
That each day is a new chance to make the most of our life, to truly thrive and reach our potential.
That we are made vital through each breath we take.
That we must make our choices NOW, not tomorrow, because we never know what will happen next.
I focus on health and stress reduction because it is something that I used to handle in an unhealthy way - in my 20s, working excessively, partying excessively, and worrying excessively - and because I am moved to work with other stressed out individuals to help them find better ways of coping with life.
Through meditation, yoga, coaching, and writing, I have learned to deal with stress as soon as it arises.
You know that stress contributes to hypertension and heart disease, along with poor diet and lifestyle choices. You know it can also give you a poor sleep and a nasty headache and even make you snap at your family. You know stress is an all-round pain in the a***.
Nipping stress in the bud, learning ways to effectively manage stress, and giving yourself regular time-out to de-stress are all part of the services that I want to share with you.